Benromach Sassicaia 2006
Review #229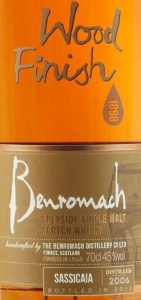 OK, the last one for today is the Benromach Sassicaia 2006, which is matured in First Fill Bourbon casks and than finished for 18 months in Sassicaia casks, a Bordeaux-styled red wine from the extremely rocky (sassi) wine-producing region of Bolgheri in Tuscany, Italy.
Before we start, make sure to also check out my other reviews from today: Benromach Organic 2008, Benromach Hermitage 2005 and Benromach Château Cissac 2006.
Facts
| | |
| --- | --- |
| Name: | Benromach Sassicaia |
| Vintage: | 2006 |
| Bottled: | 2015 |
| Category: | Single Malt Scotch Whisky |
| Distillery: | Benromach |
| Cask Type: | 1st Fill Bourbon + Sassicaia Wine Casks Finish |
| Number of bottles: | 4,000 |
| Strength: | 45.0% Vol. |
| Colored: | No |
| Chill Filtered: | No |
Nose
A bit of an old barn — sun dried wood, hey and dust. Then red berries, dried orange peels, vanilla and nougat chocolate. A whiff of cinnamon. Very little smoke.
Taste
Fat, oily and again, very little smoke. More red berries. Caramel, lemon zest and wood. A bit peppery.
Finish
Medium, dry earth and a bit spicy. Cinnamon, citrus zest, dried oak and sweet tobacco.
Overall
Solid, but I'm not sure if spirit and cask complement each other well or not. This is definitely my least favorite from Benromach's Wood Finish Series. That said, maybe Benromach isn't really meant for wine fishes in general.
Score: good but not exceptional (81 / 100)