Yamazaki Puncheon 2013
Worldwide Wednesday Episode 4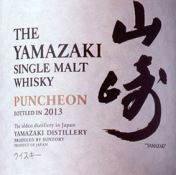 So this is the 2013 version of the Yamazaki Puncheon. As the name suggests, it is matured in puncheons, large casks with a holding capacity of 480 liters or even more. Due to the smaller spirit to wood ratio (your typical Hogshead has a holding capacity of around 250 liters), we should have a slightly slower aged and therefore more elegant and spirit-driven impression here.
But now it is getting really interesting. From what I could gather, Yamzaki used puncheons which were previously seasoned with bourbon. Now that is a new one to me! So far I only knew of sherry or rum puncheons but I had never heard of bourbon puncheons before.
Anyways, the Yamazaki Puncheon is part of Yamazaki's annual "Cask Collection". The other three variants are bourbon, sherry and mizunara (Japanese oak). Last week I already reviewed the Yamazaki Sherry Cask 2013. It is reported that 2013 was the final year of the series.
Facts
| | |
| --- | --- |
| Name: | Yamazaki Puncheon 2013 |
| Bottled: | 2013 |
| Category: | Single Malt |
| Distillery: | Yamazaki (Suntory) |
| Cask Type: | Puncheon |
| Strength: | 48.0% Vol. |
| Colored: | Yes |
| Chill Filtered: | No |
Nose
A whole lot of pears to start with. Then more fruits – peach, green banana and unripe pineapple. A subtle sweetness of heather honey and vanilla pod. Also some light touches of fresh oak. Overall fresh and fruity, but by the same token pretty youngish and a bit immature in the nose.
Taste
Rather strong. Malty and again fruity with a sour touch of lime juice and bitter orange peel. Than some sweetness of ripe fruits and vanilla infused honey. Balanced by some slightly peppery oak.
Finish
medium long with vanilla ginger cupcakes
Overall
Unfortunately, not much beyond the wood it was matured in. Fruity, balanced and easy-going but overall pretty one-dimensional.
Score: 84 / 100