Bushmills 16 Years Old
Tasty Tastings Episode 2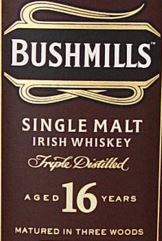 Today is Saint Patrick's Day (or Lá Fhéile Pádraig in Irish) and www.dramlicious.com is celebrating too! And what would be more suitable for this special day than a little vertical tasting of Irish Whiskey? So I grab four different bottlings from Old Bushmills for today. The second one on my list is the Bushmills 16 Years Old. Earlier today I already reviewed the 10 Year Old.
The Bushmills 16 Year Old is partly matured in American Oak Casks and partly matured in Oloroso Sherry Casks. Afterwards all casks are married and finished in Port Pipes for another 6 to 9 months. Therefore this bottling is also called "Three Woods".
Facts
Nose
A pleasant Port note upfront. Dark cherries, marzipan, milk chocolate and honey pie. After a while some dry Sherry comes to light.
Taste
Sweet entrance. A true firework of roasted cherries, honey liqueur, marzipan and roasted almonds evolves. And to round things up the Sherry makes a delicate appearance in the background now.
Finish
long with a tad dryness, red berries covered in dark chocolate
Overall
Wonderful complex yet very balanced, this dram is inherently consistent from start to finish.
Score:  89 / 100