Bushmills 21 Years Old
Tasty Tastings Episode 3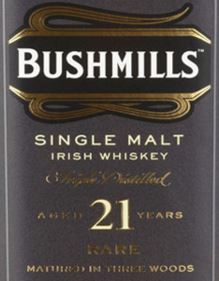 Today is Saint Patrick's Day (or Lá Fhéile Pádraig in Irish) and www.dramlicious.com is celebrating, too! And what would be more suitable for this special day than a little vertical tasting of Irish Whiskey? So I grab four different bottlings from Old Bushmills for today. The third one on my list is the Bushmills 16 Years Old. Earlier today I already reviewed the 10 Year Old and the 16 Year Old.
The Bushmills 21 Year Old is partly matured in Bourbon Casks and partly matured in Oloroso Sherry Casks. Afterwards all casks are married and finished in Madeira Casks for 2 years. This is the oldest available bottling in the Bushmills range at the moment and is only produced in smaller quantities. Every bottle is single numbered.
Facts
Nose
Very tight-knit with all flavors deeply interwoven. An aroma almost as mysterious as the Sphinx. There are hints of mint chocolate, honey, toffee, raisins and spices like nutmeg and cinnamon. Also a nutty touch of almonds and walnuts. A bit malt in the distant background.
Taste
Honey, toffee and milk chocolate. Some malt and a touch oak without the bitterness.
Finish
long and just a tad dry with tobacco. Mint flashes up before rum-soaked raisins kick in.
Overall
An amazing start with a tremendous interesting nose but unfortunately flattens out a bit in the delivery before it gains again in the finish. Still a very pleasant experience overall.
Score:  85 / 100