GlenDronach 18 Years Old Marsala Finish
Tasty Tastings Episode 21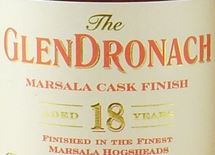 Glendronach, 18 Years Old, Marsala Finish – the perfect recipe for a hype. And sure enough, the demand was through the rough and prices skyrocketed within a very short time.
It will be interesting to see if there will be more Marsala finished expression from GlenDronach in the future or if this was some sort of one-time experiment. Certainly there would be more than enough demand for a further Marsala expression – maybe with a younger age?
Anyways, let's see what all the fuss is about.
Facts
| | |
| --- | --- |
| Name: | GlenDronach 18 Years Old Marsala Finish |
| Bottled: | 2014 |
| Age: | 18 Years Old |
| Category: | Single Malt Scotch Whisky |
| Distillery: | GlenDronach |
| Cask Type: | European Oak, Finish in Marsala Hogsheads |
| Number of bottles: | 2,112 |
| Strength: | 46.0% Vol. |
| Colored: | No |
| Chill Filtered: | No |
Nose
Big fat grapes in a sea of dark honey. And now it is breakfast time. Cornflakes with almond honey, toast, bittersweet orange marmalade and ginger marmalade.
Taste
Rich and full-bodied. Rather sweet. Green apples, green pears and a few raisins in between. Increasing spiciness of white pepper, spiced hazelnuts and ginger. In the background a bit of those breakfast cereals from the nose paired with a slight hint of oak.
Finish
Long and pretty strong. Delivers some sweet, fresh fruits before pepper drops the hammer.
Conclusion
The Marsala finish works pretty well here and brings in some nice features. Pleasant and tasty for sure, but not exactly a big revelation in my books.
Score: 85 / 100
Sample provided by Thorsten Jung (Spiritscorner.eu)