BenRiach Albarzia 18 Years Old
Peaty Friday Episode 6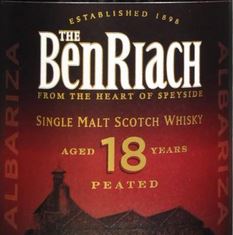 The BenRiach Albarzia 18 Years Old  is the newest addition to BenRiach's "heavily peated range" and one of their two more recent releases, with the other one being BenRiach Aged 15 Years Sauternes Finish. The strictly limited Albarzia is distilled from peated malt and was first matured in American Oak casks followed by a finish in Pedro Ximenez sherry casks.
The name 'Albarzia' originates from the same-named white chalky (alba means white) soil in Andalusia. This unique soil is able of absorbing rainwater and giving it back in summertime to the vines. Interestingly enough, there are actual very few Pedro Ximenez vineyards left in the Jerez area nowadays.
Facts
Nose
Big, heather honeyed smoke, very present but not overpowering. Soft touches of dry fruits custard. Strewn with very finely chopped Provencal herbs. This combo might sound a bit strange at first, but believe me, this is very delicate stuff.
Taste
Alright, the delivery is weaker than expected but not a complete downfall either. Sherry and smoke complement each other well, although the latter is a bit more dominant. A bag full of dried fruits paired with vanilla infused honey. Some green pepper for the extra kick.
Finish
Rather medium than long. The sweet smoke quickly fades away and leaves behind a dry spiciness.
Overall
Unfortunately, the surprisingly thin palate does not really match up with the very promising and almost award-worthy nose, otherwise the score would be much higher!
Score: 86 / 100
Sample provided by Thorsten Jung (Spiritscorner.eu)