Tomatin 2002 'Cuatro #2′ (Manzanilla)
Tasty Tastings Episode 30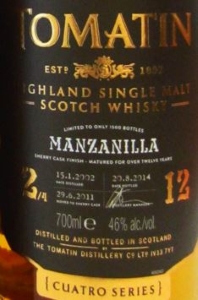 Without any further ado, here comes the second part of the 'Cuatro Series' from Tomatin. You can find more details about this series in the foreword to my tasting notes of the Tomatin 2002 'Cuatro #1′ (Fino).
Facts
| | |
| --- | --- |
| Name: | Tomatin 2002 'Cuatro #2′ (Manzanilla) |
| Distilled: | 15.01.2002 |
| Bottled: | 20.08.2014 |
| Age: | 12 Years Old |
| Category: | Single Malt Scotch Whisky |
| Distillery: | Tomatin |
| Cask Type: | 9 Years in Ex-Bourbon casks, Finish in Manzanilla Sherry Casks for 3 years |
| Number of bottles: | 1,500 |
| Strength: | 46.0% |
| Colored: | No |
| Chill Filtered: | No |
Nose
It is like entering one of those old fashioned candy stores – lots and lots of marshmallows, vanilla fudge and candy floss. Seems like it's been awhile since the shop has been cleaned the last time because the aroma has some dusty, unfresh appearance to it. Oh, there are also some plastic bags lying on the ground of the store. So time to get out of here. Once outside, we are greeted by the pleasant aroma of bitter orange marmalade accompanied by apples, pears and white grapes. There also seems to be a farm nearby because the smell of hay is in the air.
Taste
Tingling with a dry sweetness. Candied oranges and pink grapefruits. A sip of limonchello. Followed by a short intermezzo of spicy oak. Then the grapefruits take over again.
Finish
Medium with dry earth, bitter grapefruit and lemon pepper.
Overall
Smooth and enjoyable but I couldn't detect too much influence of the sherry here. Nice sip but ultimately a bit uninspiring.
Score: 82 / 100