Tomatin 2002 'Cuatro #1′ (Fino)
Tasty Tastings Episode 29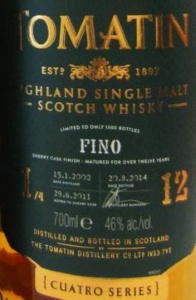 Today I have no less than four new episode of 'Tasty Tastings' in store for you. I looked forward to review the whole 'Cuatro Series' from Tomatin for quite some time now, so let's get to it!
The idea behind this series sounds pretty interesting: Take a batch of whisky distilled on the same day (January 15th 2002), mature it for nine years in ex-bourbon casks and then finish each quarter in a different type of first-fill sherry cask – Fino, Manzanilla, Oloroso and Pedro Ximinez – for another three years. It will be very interesting to find out how big, or small, each sherry type impacted the very same base whisky.
By the way, if you were already wondering what 'Cuatro' means: It is the simple the Spanish word for "four". Not the most creative naming by any means but I have seen worse before.
As of this writing, the series is still relatively widely available despite the fact that only 1,500 bottles from each expression were released.
Facts
| | |
| --- | --- |
| Name: | Tomatin 2002 'Cuatro #1′ (Fino) |
| Distilled: | 15.01.2002 |
| Bottled: | 20.08.2014 |
| Age: | 12 Years Old |
| Category: | Single Malt Scotch Whisky |
| Distillery: | Tomatin |
| Cask Type: | 9 Years in Ex-Bourbon casks, Finish in Fino Sherry Casks for 3 years |
| Number of bottles: | 1,500 |
| Strength: | 46.0% |
| Colored: | No |
| Chill Filtered: | No |
Nose
Starts with a lot of brown butter. Moves on with walnut apple pie and orange zest. Hints of wine soap in the background.
Taste
A rather interesting mix of whisky and sherry, not really one or the other, just a bit of both. A huge load of sour apples. Followed by sweet oranges, spicy gingerbread and roasted nuts. Overall pretty close to a white wine somehow.
Finish
Rather long and dry with walnuts and oranges before the white wine comes back again.
Overall
I am not quite sure what that was. Unusual but not unpleasant I would say.
Score: 83 / 100