Glenfiddich 19 Years Old 'Age of Discovery' Madeira
Tasty Tastings Episode 34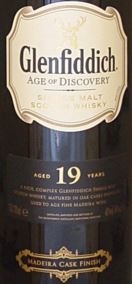 Today's tasting lineup includes all three 'Age of Discovery' expressions from Glenfiddich. Although originally released only for travel retail, all three of them are nowadays relatively widely available in online shops as well (at least here in Germany).
The start of the series was a 19 Years Old finished in Madeira casks to honor the 15th Century Portuguese explorers, who discovered in their search for a passage to India new islands like Porto Santo and Madeira. According to Glenfiddich, the majority of the Madeira casks come from the Canterio warehouse of Henriques & Henriques, a well-known, family owned Madeira company which was established in 1850.
Facts
Nose
Deep and a bit earthy. A delicious fruit basket with figs, strawberries, gooseberries and grapes. Fresh vanilla biscuits served with orange marmalade.
Taste
Starts with orange liqueur and candied fruits before it moves on with sugared ginger and cinnamon. Unfortunately, it goes downwards from there due to the lack of strength, only leaving behind some thin-yet-cloying ginger liqueur.
Finish
Not very long, dry earth with a slightly sweet touch.
Overall
Lags behind its full potential. The nose is really good but the rest cannot keep up with it. Needs a bump up to 46% in my opinion.
Score: 84 / 100