Aultmore 2007 (for Whic Whiskycircle)
Tasty Tastings Episode 38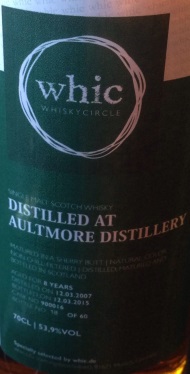 I meant to review this bottling about one and a half week ago but unfortunately there were problems with the mail service and I did not receive my sample in time. But better late than never I guess.
So what we have here is the very first own bottling for German online whisky retailer whic.de and to no surprise, all 60 bottles were sold within 24 hours after the release.
As some of you might already know, I am a guest blogger for whic and I do also write tasting notes in German for them.
Facts
| | |
| --- | --- |
| Name:  | Aultmore 2007 |
| Bottled for: | Whic Whiskycircle |
| Distilled: | 12.03.2007 |
| Bottled: | 12.03.2015 |
| Age: | 8 Years Old |
| Category: | Single Malt Scotch Whisky |
| Distillery: | Aultmore |
| Cask Type: | Sherry Butt |
| Cask Number: | 900016 (part of) |
| Number of bottles: | 60 |
| Strength: | 53.9% |
| Colored: | No |
| Chill Filtered: | No |
Nose
Starts with a lot of cherry-flavored tobacco and finely chopped almonds with only a touch of floral perfume. Then come hints of orange blossom, floral honey and vanilla. The alcohol is merely noticeable and stays in the background all the time.
Taste
Oily and vibrant. A really big sip of cherry liqueur. Followed by more than a handful of sherry-soaked raisins. Hints of white pepper and vanilla right before the next wave of cherry liqueur. Drying towards the end with wood and tobacco.
Finish
Medium. Strong and slightly drying with a big box of chocolate coated cherries. A bit rough around the edges.
Overall
Here fits (almost) everything: spirit, sherry butt and bottling strength work really well together. The intense cherry aromas are nothing but lovely. Just the finish is a bit too rough for my taste. But all together very fine selected whic! I am looking forward to your next bottling.
Score: 88 / 100
Sample provided by whic.de