King Car Conductor
Worldwide Wednesday Episode 11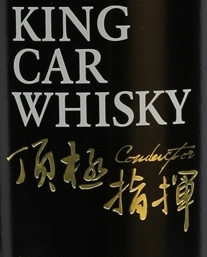 Today we are continuing our trip in the wonderful world of concert music… I mean today we are reviewing yet another Kavalan expression which name has something to do with concert music making it three out of four (the other two would be Concertmaster and Podium). So I do not know why, but to me it seems like Kavalan has a real preference for music based names.
Although in contrary to all of their other bottlings, this is the only one which bears the name of the company behind this up-and-coming distillery from Taiwan. The intention is to symbolize the belonging of Kavalan to King Car and to represent "the kind of diversity, multi-area of business" the consortium does.
Facts
| | |
| --- | --- |
| Name: | King Car Conductor |
| Age: | NAS |
| Category: | Single Malt |
| Distillery: | KAVALAN |
| Cask Type: | Vatting of 8 different casks |
| Strength: | 46.0% Vol. |
| Colored: | No |
| Chill Filtered: | No |
Nose
Lots and lots of banana puree to begin with. Then more fruits come through like coconut, papayas and pineapples. Followed by even more fruits like apples, pears, kiwis, oranges and other citrus fruits. Mixed in with hints of raisins, white pepper and honey glazed nuts. Now cinnamon bubbles gums, vanilla creme and charred oak. With some time, the bourbon casks shine through more and more.
Taste
Unexpectedly dry and strong. Again lots of bananas. Pears, honey and orange peel. Gets more spicier with pepper, cinnamon and ginger accompanied by a (almost too) big chunk of oak. Makes another turn and bitter chocolate kicks in. There's a lot going on here, for sure.
Finish
Medium and dry. Again a big chunk of oak, although more spicy and peppery now. Touches of bananas and vanilla. Tea in the aftertaste.
Overall
The oak is maybe a bit too harsh both on the palate and on the finish but besides that this is a pretty enjoyable single malt with a lot of different layers.
Score: 86 / 100