Invergordon 1988 'Lemon Cheesecake' (Wemyss Malts)
Tasty Tastings Episode 43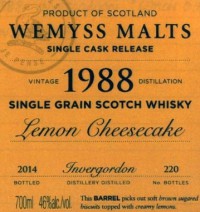 Grain whisky seems to be the unloved stepbrother of malt whisky, often rejected due to its role as a cheap-to-make filler in blends. This seems a bit unfair to me. A well-made single grain is a real enrichment to every whisky cabinet, at least in my opinion.
And that's why I want to review two single grains from Invergordon today, both bottled by Wemyss Malt. For the start I picked the Invergordon 1988 'Lemon Cheesecake', the first ever single grain release from Wemyss. But first I want to thank my buddy Thorsten for providing me with a sample to review.
Facts
| | |
| --- | --- |
| Name: | Invergordon 1988 'Lemon Cheesecake' |
| Bottler: | Wemyss Malts |
| Vintage: | 1988 |
| Bottled: | 2014 |
| Age: | 26 Years Old |
| Category: | Single Grain Whisky |
| Distillery: | Invergordon |
| Cask Type: | Barrel |
| Number of bottles: | 220 |
| Strength: | 46.0% Vol. |
| Colored: | No |
| Chill Filtered: | No |
Nose
A light and fluffy cheesecake with lemon topping. Mouthwatering sweet. A bit of sawdust. Dark fruits with vanilla. Hints of almonds.
Taste
Smooth, creamy and almost thick. Tropical fruits with a lot of caramel sauce. Lemon juice with sugar cane. Gets spicier with cinnamon and traces of pepper.
Finish
Long and sweet with a light oak dryness. Again tropical fruits, lemon and caramel.
Overall
This is a fine example of a well aged grain whisky from Invergordon – light and summer-like with a refreshing lemony touch. A well done debut single grain from Wemyss.
Score: 85 / 100