Glenmorangie Ealanta
Tasty Tastings Episode 6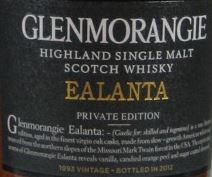 I got finally the time to ponder over the Glenmorangie Tùsail but first I want to review two older Private Edition releases: Ealanta and Companta.
Glenmorangie Ealanta is the fourth annual release in the Private Edition series from Glenmorangie. Only heavily charred casks made of American white oak from the Mark Twain National Forest in Missouri were used for maturation. After a maturation of almost 20 years in virgin oak one could expect that the oak may be overpowering but let's see if this is the case here.
Facts
| | |
| --- | --- |
| Name: | Glenmorangie Ealanta |
| Vintage: | 1993 |
| Bottled: | 2012 |
| Category: | Single Malt Scotch Whisky |
| Distillery: | Glenmorangie |
| Casky Type: | Missouri White Oak |
| Strength: | 46.0% Vol. |
| Colored: | No |
| Chill Filtered: | No |
Nose
Right away cooling menthol rises to the nose but besides this it is really hard to differentiate the aromas because they are so tight-knit at first. Only with time they open up. Now marzipan and butterscotch come to light. Then vanilla pudding with cooked white fruits and a hint of cinnamon. In the nose much more like a Bourbon than a Single Malt. A very unique nose indeed.
Taste
Full-bodied and Vibrant. At first some bitter orange followed up by a vague nutty taste – maybe almonds? Afterwards fine spicy vanilla unfolds. The American white oak is even more evident now. This feels more and more like a Bourbon to me.
Finish
Very long, almost limitless. A touch of ginger followed up by a whiff of cooling anise. Very harmonic and balanced.
Overall
The marriage of Bourbon and Single Malt. A genuine wonderful combination of carefully selected casks and very fine Single Malt. Truly unique and special.
Score: 96 / 100