Glenmorangie Companta
Tasty Tastings Episode 7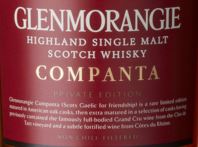 I got finally the time to ponder over the Glenmorangie Tùsail but first I want to review two older Private Edition releases: Ealanta and Companta.
Glenmorangie Companta is the fifth annual release in the Private Edition series from Glenmorangie. Companta is Scotch Gaelic for "friendship" and could be understood as referring to the different used cask types.
At first Companta was matured in ex-borubon barrels for nine years. The subsequent finish lasted another five years. 60% was finished in Grand Cru casks from Clos de Tart and the remaining 40% was finished in Rasteau casks from Côtes du Rhône. Dr. Bill Lumsden, Director of Distilling at Glenmorangie, personally selected the casks.
You have no clue what all those french terms mean? Do not worry because I had to look them up as well. So here comes a quick summary. "Grand Cru" are the best vineyards in Burgundy. "Clos de Tart" is a vineyard only cultivated with red wine. "Rasteau" is a sweet fortified wine from Côtes du Rhône (Hills of the Rhône), a wine-growing area located in the southern Rhône valley.
Facts
| | |
| --- | --- |
| Name: | Glenmorangie Companta |
| Category: | Single Malt Scotch Whisky |
| Distillery: | Glenmorangie |
| Casky Tpe: | ex-borubon barrels, Finish in Grand Cru Clos de Tart & Rasteau Côtes du Rhône casks |
| Strength: | 46.0% Vol. |
| Colored: | No |
| Chill Filtered:  | No |
Nose
Right away fruity red wine rises to the nose. Wild berries, sugared cherries. With a little good will I can also find the wood smoke from the official tasting notes but that impression does not last long. Hints of raisin and nut chocolate.
Taste
A mild palate entry with slightly dry red wine. Strong pipe tobacco, sweetish and spicy, almost gluey. After a while milk chocolate filled with cherry liqueur takes over.
Finish
A lingering sweet that coats the mouth.
Overall
Superb! Pleasant, harmonic yet complex. Often a red wine finish does more harms than good but here it is the complete opposite. The red wine is nicely integrated and provides additional depth. So far the best Single Malt with a red wine finish I was able to taste. The taste of friendship!
Score: 92 / 100