GlenDronach Octarine 8 Years Old (2013)
Tasty Tastings Episode 72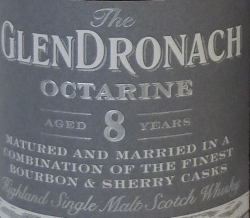 Today is all about young Glendronachs, as I am reviewing five expressions aged between 7 and 10 years. So let's see what the "young guns" have to offer!
The GlenDronach Octarine was firstly released in 2010. Back then, it was an exclusive bottling for the Carrefour supermarkets in France, but later it was also available in other parts of Europe as well as in some online shops.
Facts
Nose
A big cup of peach herbal tea. A bright fruitiness of raspberries, cranberries, pomelo and strawberry jam, balanced by sweet malt and caramel. Hints of white honey in the back.
Taste
Smooth. Lots of toffee, then some vanilla. Oranges, sour cherries and strawberry jam again. A light spicy bitterness. Some clove and oak. Hot chocolate in the end.
Finish
Quite long. Fresh, fruity, woody and slightly bitter.
Overall
A very enjoyable entry level expression, which is quite mature for its age.
Score: 84 / 100