GlenDronach The Hielan' 8 Years Old (2015)
Tasty Tastings Episode 73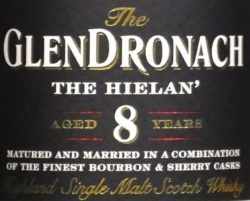 Today is all about young Glendronachs, as I am reviewing five expressions aged between 7 and 10 years. So let's see what the "young guns" have to offer!
The Hielan' is the latest addition to GlenDronach's core range and
is a tribute to the dialect spoken in the distillery's surrounding area in the Scottish Highlands.
It's only 8 years old (still better than a NAS, right?) and was matured in a combination of ex-bourbon and ex-sherry casks. This might sound like another Ocatarine, but judging by the color, this is clearly not the case.
Facts
Nose
Very, very malty. Lots of vanilla, accompanied by hazelnuts, raisins, marzipan, green apples and burned vanilla crescents. There is also a whiff of … shaved grana padano cheese… interesting. Some green pepper in the background.
Taste
Very malty and very sweet. Vanilla, toffee and did I already say malt? Seriously, it's very beer-like. Ginger, biscuits and hints of white pepper.
Finish
Medium. Dry and peppery with grassy and herbal notes. Oh, and of course more malt.
Overall
I'm sorry to say this but, for me this a worse version of the Octarine. It's just too malty and there is hardly any sherry influence. Really not my kind of dram.
Score: 81 / 100