GlenDronach Revival 15 Years Old
Tasty Tastings Episode 84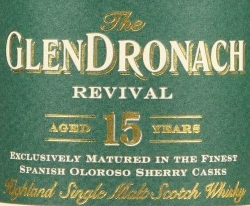 As many of you probably already know, GlenDronach announced the phase out of their 15 Years Old Revival — fans of the distillery were in uproar, prices skyrocket and (virtual) shelves were emptied.  But, up until then, this expression was arguably one of the best bargains in the whisky world, as the following chart shows (click to enlarge):
As you can see, there is a six-year-long production gap because the distillery was mothballed from 1996 to May 2002. So certain expressions are much older than the label says, which means that the version I am reviewing today is actual 18 or 19 years old (not sure about the bottling date).
The first "real" 15 Years Old will be released in 2017 or 2018 and it will be interesting to see how it will compare to today's version.
Facts
Nose
Sweet sherry with fruity notes of plum jam, oranges, blackberries and raspberries. Melted nougat, cinnamon powder and honeyed raisins. Some sugared pecans. Whiffs of fire cracker smoke in the back.
Taste
More vibrant than expected. Lots of dried fruits. Dates, figs and sweet oranges. Milk chocolate. Hints of ginger, cinnamon and nougat.
Finish
Long with a spicy sweetness. Milk chocolate and red berries. Oranges in sherry.
Overall
Don't get me wrong, this is a pretty good sherried whisky, but I don't get all the praise. It's really not that impressive to me. Maybe it's the batch?
Score: 85 / 100