BenRiach 18 Years Old Latada
Peaty Friday Episode 29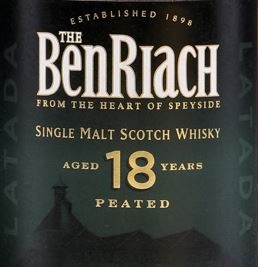 The BenRiach 18 Years Old Latada, named after the traditional trellised vine system on the island of Madeira, is the latest addition to the distillery's 'heavily peated range'. This strictly limited expression was matured in American Oak casks and then finished in Madeira wine casks.
I really liked the first two bottlings (Albarzia and Dunder) in the series, although both were not up to my (admittedly high) expectations. Maybe third time's the charm.
Facts
| | |
| --- | --- |
| Name: | BenRiach 18 Years Old Latada |
| Bottled: | 2015 |
| Age: | 18 Years Old |
| Category: | Single Malt Scotch Whisky |
| Distillery: | BenRiach |
| Cask Type: | Ex-Bourbon Barrels, Finished in Madeira Wine Casks |
| Number of bottles: | 4,001 |
| Strength: | 46.0% Vol. |
| Colored: | No |
| Chill Filtered: | No |
Nose
At first, pretty "camping-like", if you know what I mean: campfire smoke, mossy stones, grass and wet leaves. Gets more fruitier with some time. Overripe melons, white grapes and pears. Also raspberries candies and marzipan. Some herbs. Hints of vanilla, leather and… iodine? Never had this in a non-Islay before. Interesting. Great nose, everything works well together.
Taste
Dry smoke with earthy and peaty undertones. Honeyed bananas, dried fruits and bitter citrus fruits, grapefruits perhaps. Some charred oak in the back. Pretty good but quite different than the nose would suggest.
Finish
Long with lots of dry smoke. Dried citrus fruits and tea leaves. A bit weak compared to the rest.
Overall
The best of the series for me. Highly pleasant, but it needs time to grow on you. It's just too bad that the finish is a bit weak, because otherwise the score would be even higher!
Score: 88 / 100