Glenmorangie Dornoch
Tasty Tastings Episode 89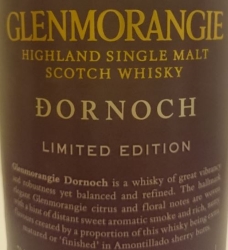 OK, so after The Taghta, what to have next… how about the Glenmorangie Dornoch? Yeah, let's go with that one.
Alright, Dornoch is a limited travel retail edition inspired by the Dornoch Firth, the shore where Glenmorangie is located. In order to preserve this beautiful estuary, Glenmorangie makes a donation to the Marine Conservation Society for every bottle sold.
But enough of the backstory, let's talk about the whisky itself. Dornoch combines whisky matured in first-fill ex-bourbon casks and lightly peated whisky finished in ex-Amontillado Sherry casks and comes without an age statement but with a pretty high price tag (around 75€).
By the way, a new travel retail bottling named Glenmorangie Talogan will replace the Dornoch in March or April.
Facts
Nose
Very light. Grass, hey and even some raw malt. Roasted almonds and peanuts, hard caramel and Granny Smiths. Maybe some vanilla, too. Undertones of floral perfume.
Taste
Lots of lemons. Nougat, apple juice and a few oranges. Oak. Hints of mint chocolate. Perhaps some minimal smoke with a lot of good will.
Finish
Medium. Lemon candies,caramel and a tiny bit vanilla.
Overall
Solid, but not a lot more. Could be a nice entry level expression with the right price tag.
Score: average but worth a try ( 80 / 100)
Sample provided by spiritscorner.eu