Teerenpeli 8 Years Old
Worldwide Wednesday Episode 1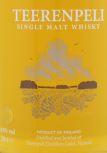 This is as far as I know the current standard bottling of Teerenpeli, the biggest whisky producer in Finland. I really like the fact that they give this bottling an age statement despite its rather young age. I find this kind of honesty refreshing at a time when most distilleries give their young whisky rather a fancy name than an actual age statement.
Facts
| | |
| --- | --- |
| Name: | Teerenpeli 8 Years Old |
| Age: | 8 Years Old |
| Category: | Single Malt |
| Distillery: | Teerenpeli |
| Strength: | 43.0% Vol |
| Colored: | No |
| Chillfiltered: | No |
Nose
A very dominant citrus note and lots of malt in the foreground. Behind this a more subtle note of vanilla pudding strewn with rasped coconut. With the time a more fruitier aroma develops with apples and pears. And I cannot help myself but is there some smoke in the very distant background?
Taste
Rather sweet and soft with butterscotch, nougat and vanilla almond milk latte. But there is also a spicy touch to it which a light pepper note.
Finish
Surprising long for this age. The sweetness is balanced by a slight dryness and some bitterness. Again a very distant smokey touch.
Overall
Young but not immature! A bit simplistic overall but very promising indeed. I expect great things from the distillery in the future.
Score: 85 / 100