Bushmills 1608 400th Anniversary
Tasty Tastings Episode 4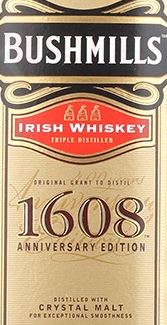 Today is Saint Patrick's Day (or Lá Fhéile Pádraig in Irish) and dramlicious.com is celebrating, too! And what would be more suitable for this special day than a little vertical tasting of Irish Whiskey? So I grab four different bottlings from Old Bushmills for today. The fourth (and last) one on my list is the Bushmills 1608 400th Anniversary. Earlier Today I already reviewed the 10 Year Old, 16 Year Old and 21 Year Old.
So this special bottling was created to celebrate Bushmills 400th birthday (which is actually in 2184 but anyway). In contrast to the already reviewed Single Malts from Bushmills it is non-chillfiltered and bottled with 46.0%. This blend is partly made up of crystal malt – malted barley which has been dried at a high temperature whilst the grains are still moist, thus partly converting the grain's into sugars and caramelizing them. Sounds interesting to me and to be honest to you this is the first time that I read about this type of malt.
Facts
| | |
| --- | --- |
| Name: | Bushmills 1608 400th Anniversary |
| Age: | NAS |
| Cask Type: | Bourbon and Sherry Casks |
| Distillery: | Old Bushmills |
| Category: | Blended Irish Whiskey |
| Strength: | 46.0% Vol. |
| Colored: | Yes |
| Chill Filtered: | No |
Nose
At first a very concentrated floral note. I get heather, freshly-cut grass, roses and lavender out of it. Then some more sweeter elements, maybe some vanilla and pine honey. Also marzipan and red fruits. On top of this some medium dry Sherry notes.
Taste
A sweet entrance to the palate with traces of vanilla. Afterwards a noticeable Sherry influx paired with roasted almonds. A slightly oaky touch in the background.
Finish
long with slightly dry Sherry. Lingering dark chocolate and rum-soaked raisins
Conclusion
Pretty much your picture-book type of blend. A bit of almost everything put together in a very enjoyable way.
Score:  81 / 100