KAVALAN Solist Ex-Bourbon (B080825203)
Worldwide Wednesday Episode 14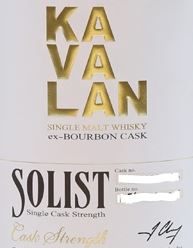 After reviewing all Kavalan expressions bottled at drinking strength, it is now time to review their single cask series called 'Solist'. I know that Kavalan really likes music basic names, but I do not have the slightest clue why they picked the German word for 'Soloist' here. Anyways, today I will review the Solist Ex-Bourbon and the Solist Vinho Barrique, followed by reviews of the Solist Sherry and the Solist Fino next Wednesday.
Alright, let's start with the KAVALAN Solist Ex-Bourbon after last week's review of the Ex-Bourbon Oak. To me, hands down, the best Single Malt from Kavalan I had so far. Just one gorgeous combination between first-fill bourbon casks and Kavalan's signature exotic fruitiness. Now, from what I understand, the Ex-Bourbon Oak is actually nothing other than a Solist Ex-Bourbon reduced to drinking strength. If so, is the Solist version bottled at cask strength even better than the 46% ABV version?
Facts
| | |
| --- | --- |
| Name:  | KAVALAN Solist Ex-Bourbon |
| Category:  | Single Malt |
| Distillery: | Kavalan |
| Cask Type: | Ex-Bourbon |
| Cask No.: | B080825203 |
| Number of bottles: | 205 |
| Strength: |  58.6% vol. |
| Colored: |  No |
| Chill Filtered: |  No |
Nose
Soft and smooth. The alcohol is merely noticeable. Apple pie with vanilla ice cream. Hints of honey and coconut butter. Not the most complex aroma but very pleasing.
Taste
Quite syrup-y. Strong alcohol burn. Vanilla marshmallows, pineapple juice, apples and coconuts. Altogether very fruity and sweet. Followed by candied almonds. Also a good portion of wood. 
Finish
Medium and dry. More fruits.
Overall
Surprisingly woody for such a young whisky. The alcohol is not all that well integrated and the bourbon-flavored-syrup style is just a bit over the top. Overall not unpleasant but a little bit too edgy for me.
Score: 83 / 100