Yamazaki Sherry Cask 2013
Worldwide Wednesday Episode 3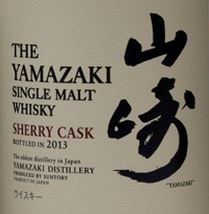 This single malt was awarded as the "World Whisky of the Year – 2015″ by the well-known whisky author Jim Murray in the latest issue of his "Whisky Bible". His vote was a novelty in two different ways: First, never before a whisk(e)y got a score of 97.5 points by him and second, it is the first time that he gave this award to a whisk(e)y not produced in Scotland. He justified his decision in the following way: "If anyone wants to find out roughly what the first Macallan-10-year-old I had in 1975 tasted like, then grab a bottle of this…" (Whisky Bible 2015). His decision did not only drew a great deal of media coverage but was also discussed with much controversy among whisky fans.
Because I have no clue how a Macallan 10 Year Old tasted like in 1975, here are some hard facts:
The Yamazaki Sherry Cask 2013 is 100% matured in ex-sherry casks and is part of the annual "Cask Collection" from Yamazaki (Suntory). It is reported that 2013 was the final year of the series.
So let's see what all the fuss was about.
Facts
| | |
| --- | --- |
| Name: | Yamazaki Sherry Cask 2013 |
| Bottled: | 2013 |
| Category: | Single Malt |
| Distillery: | Yamazaki (Suntory) |
| Cask Type: | Sherry Casks |
| Strength: | 48.0% Vol. |
| Colored: | No |
| Chill Filtered: | Yes |
Nose
Rich and vibrant sherry notes as expected. Dry, walnuts – seems like oloroso sherry to me. I detect some raisins behind the massive sherry wall or at least I think so. A very appealing, engaging nose for sure. Makes curious for more.
Taste
Creamy at first but a certain sherry dryness develops soon. A strong, nutty taste. Some hardly noticeable fruits in the distant background – almost like dried fruits, maybe the raisins from the nose? Slightly sweeter at the end.
Finish
long with a strong focus on walnuts and raisins, again a very light fruitiness to round things off
Overall
This single malt keeps what it promises: vigorous, uncompromising sherry. In that sense, it is a well-balanced and truly exquisite sherry whisky. I would almost venture to say that this is the benchmark for other sherried whiskies. But is that really enough to be "the world best whisky"? Well, I am not too sure about that one. This is without a single doubt a very beautiful single malt but it can not live up the hype in my personal opinion.
Score: 91 / 100