Arran Orkney Bere Barley (2014)
Tasty Tastings Episode 11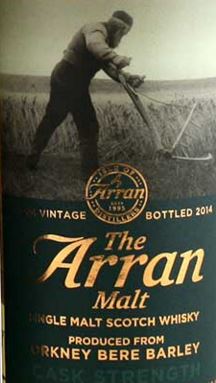 The Arran Orkney Bere Barley is back! After the first release in 2012 (8 Years, 46.0%, 5,800 bottles) the Arran Distillers teamed up once again with the Agronomy Institute of Orkney College (University of the Highlands & Islands). This time the result is a 10 Year old, again matured in ex-bourbon barrels but now bottled at a cask strength of 56.2%. Only 4,890 bottles were produced.
But what is Bere Barley? First of all, Bere is Scotland's oldest cultivated barley. It was introduced to the United Kingdom by the Vikings over 1000 years ago. A couple centuries later it was widely used by brewers and distillers. However Bere was very challenging to grow and despite its rapid growth (hence the byname "the 90-day barley") it is considered a barley of lower yield. Thus it is not surprising that eventually it fell out of style to make place for higher-yielding varieties. The very same happened to other formerly widely used barleys, too.
And this is where the Agronomy Institute of Orkney College comes into play. Since 2002 the institute has a research program for growing Bere more easily and with increased yield in order to preserve this fundamental part of Scotland's agricultural heritage. As a result of this research, several new markets (beer, biscuits but as we can see also whisky) developed for Bere Barley. For the Arran Orkney Bere Barley the barley was planted on Orkney, malted in Iverness and than distilled and warehoused on Arran.
One final thought: For several years now finishes (especially in wine casks) were all the range. Will be the usage of nowadays not widely used barley the next big thing? Well, only time will tell I guess.
Facts
| | |
| --- | --- |
| Name: | Arran Orkney Bere Barley |
| Vintage: | 2004 |
| Bottled: | 2014 |
| Age: | 10 Years Old |
| Category: | Single Malt Scotch Whisky |
| Distillery: | Arran |
| Cask Type: | Ex-Bourbon |
| Strength: | 56.2% Vol. |
| Colored: | No |
| Chill-Filtered: | No |
Nose
First off, plenty of hay and grass. Forest floor after a rainfall. Wet leaves. Then more subtle notes of heather, lavender, wholemeal biscuits and floral honey. After a while tropical fruits develop. Unripe pineapple. Soon afterwards the Arran typical citrus note chimes in to say hello.
Taste
Very sour. Feels like chewing on a fresh plowed lemon. Then a big sip of peppercorn sauce to flush down all the lemon flesh. And I am talking about really big black pepper corns here. The spiciness gets less after a while and now there are hints of green fruits and Limoncello. Then another, although this time smaller, sip from that peppercorn sauce. Over all hovers the ever-present malt.
Finish
very long, half dry and half sour. Some spicy oak. Leaves a earthy aftertaste
Overall
Very different from other Arrans I know but definitely an interesting one. Quite a fun ride with some distinct old school roughness to it.
Score: 85 / 100