Corner Creek Reserve Bourbon
American Monday Episode 12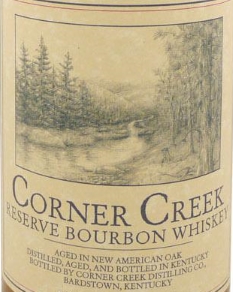 The Corner Creek Reserve Bourbon is one of the many brands owned by the Willett Distilling Company. Corner Creek, "in tradition of the great wine importers", searches for this bourbon "the elusive few great barrels of prime aged American whiskey". However, there are no hints from which distillery those barrels come from. The label only says that it was aged and matured in Kentucky and afterwards bottled by the 'Corner Creek Distilling Company' in Bardstown, Kentucky but that is only one of the many fictitious company names used by the Willett Distilling Company (former KBD).
Facts
Nose
Not really pleasant. A weird mix of yeasty cookie dough, dusty oak and wet leaves. Hints of mint, vanilla and citrus fruits.
Taste
Unexpectedly thin. Sweet red apples with caramel sauce and vanilla creme. Followed by some more dusty oak and a bit spicy rye.
Finish
Short and dry. Something between dusty oak and cookie dough. A bit peppery. Wet leaves in the aftertaste.
Overall
Different for sure from other bourbons but not necessarily in a good way. I find the aroma just unpleasant and the taste too thin and bland (albeit not bad).
Score: 70 / 100