Bunnahabhain 12 Years Old
Tasty Tastings Episode 40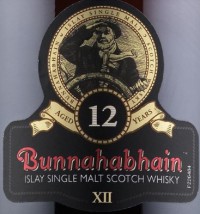 To rephrase the old saying: You should not judge a whisky by its label. But, at least on paper, Burn Stewart Distillers (owner of Bunnahabhain, Tobermory and Deanston) does everything right with their basic expressions: 46.3% ABV, non chill filtered and non-colored.
Now if only more distilleries would follow suit…
Facts
Nose
Fresh sea air, oranges (lots of), salted caramel, cinnamon buns and backed seaweed. In the not-so-distant background the smell of cold coal smoke, present but discreet. Hints of white pepper and honey. The sherry comes through nicely.
Taste
Full-bodied. Fruity oranges followed by sour citrus fruits. Gets dryer and spicier towards the end with hazelnuts and just a whiff of white pepper. Again some cold coal smoke.
Finish
Pretty long. Warming with a lot of malt and just a bit of peppery oak. Bitter oranges stewed with lemon salt.
Overall
Rich, complex, and varied – this is a good step above the usual 10 to 12 year old basic expressions out there. This is simply one of those standards you always come back for more.
Score: 87 / 100