Blanton's Special Reserve
American Monday Episode 16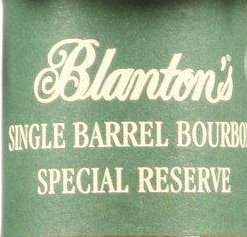 In 1984, the Ancient Age Distillery (now Buffalo Trace Distillery), released the world's first ever single barrel bourbon: Blanton's. But who was Colonel Albert Blanton's, the namesake of this bourbon?
16-year old Blanton, who was born and raised on a farm nearby the distillery, joined the company in 1897 as an office help. Only three years later, he was appointed as still house, warehouse and bottling manager. By 1921,  he was president of the George T. Stagg distillery (the name of the distillery back then). With him on the helm, the distillery survived Prohibition, the Great Depression, the Great Flood which hit the site in 1937 and World War II. Meanwhile, he occasionally produced and bottled a single barrel bourbon for himself and for a few selected friends,  pretty much like it was done in earlier times when bourbon was sold directly from the barrel. Colonel Blanton passed away in 1959.
After his death, his former trainee Elmer T. Lee found out that Blanton used only stock from Warehouse H for his special selected single barrel bourbon. Built in 1935, Warehouse H is the only metal warehouse on the site which means temperatures get higher than in a brick warehouse thus allowing for more rapid aging.
Blanton was known to be a big horse racing enthusiast (and of course there is also the world famous Kentucky derby) so the bottle stoppers are a special homage to him. Introduced in 1999, the eight different stoppers resembling the different stages of a horse trace. Each stopper is assigned with a single letter and when placed in order, they do spell B-L-A-N-T-O-N-S.
The Blanton's Special Reserve was originally created for countries with high taxes on alcohol (thus the low strength) and it nowadays the entry level expression of the Blanton's lineup. It is currently only available in selected markets outside the US and certain duty frees.
The Blanton's Special Reserve is produced from a sour mash made of corn, rye and malted barley. The spirit is distilled to 70% ABV and has 62,5% ABV when filled into new white oak barrels which were air dried for at least six months and then charred ('charred treatment number 4′).
Facts
Nose
Very light. Dried citrus peel. A few Granny Smiths. Hints of vanilla. A light floral touch.
Taste
Rather vibrant given the low strength. A lot of mangoes. Again dried citrus fruits. Hints of vanilla, blossom honey and coffee. A hand full of rose peppercorns. Traces of dried wood.
Finish
Medium. Fresh, clean and a bit spicy with cinnamon and mint.
Overall
This youngish bourbon is a fine entry level expression – nothing more and nothing less.
Score: 81 / 100