GlenDronach Peated
Peaty Friday Episode 27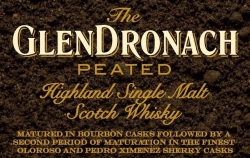 After the "young guns" on Tuesday and the middle-aged ones yesterday, let's have yet another GlenDronach today…. a peated one?! Yes, that's right! The GlenDronach Peated is the latest addition to the distillery's core range. Interestingly enough, this is technically not their first ever peated expression as they used peated barley during the early days of the distillery.
Maybe it's just me, but when I first heard that they were releasing a peated expression, I was not like "Oh yes! A peated non-age-statement expression from GlenDronach! That's exactly what I was waiting for!" Why not stick to what you do best, big sherried whiskies? Oh well, it seems like every distillery has to make all sort of different stuff nowadays. What was that again with "terroir matters?"
Facts
Nose
Warm wood smoke — warm, welcoming and very gentle. Mashed red apples, roasted marshmallows and vanilla toffee, rounded by notes of heather honey and coconut shell. Perhaps some citrus fruits in the back.
Taste
Sweet, very sweet indeed. Vanilla marshmallows with hints of floral honey, followed by a whiff of white pepper. The wood smoke comes back, still very gentle and subtle.
Finish
Medium and sweet. Lingering wood smoke, barley sugar and lemons.
Overall
This is an undemanding and agreeable expression. I will give it that. But it's nothing special in the sense of that it could come from (nearly) any other distillery out there. It's neither a peat monster, nor a sherry monster and has nothing really to do with what GlenDronach usual does. Not bad by any means, just not really needed.
 Score: 82 / 100