Four Roses Single Barrel (Me / 9-5J)
American Monday Episode 6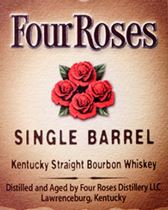 As is known, all good things come in three, so let's go for the third review of a Four Roses expression in a row: Four Roses Single Barrel.
So, as we already know by now, Four Roses has ten different bourbon recipes in use. Their Yellow Label uses all ten recipes, while their Small Batch uses four recipes. However the Four Roses Single Barrel uses just one recipe: OBSV. This acronym stands for:
O = indicates, that it was produced at the Four Roses Distillery in Lawrenceburg, KY
B = 75% corn, 20% rye and 5% malted barley (mashbill)
S = indicates "straight" whisky
V = light fruitiness, light vanilla, caramel and creamy (yeast strain)
which can be looked up on their website. I find this refreshingly transparent and would encourage everyone to have a look at their site in order to find out more about their different recipes.
A last note, before we start: There are also "limited editions" of the Four Roses Single Barrel which are bottled at barrel strength and are non chill filtered, so do not confuse both. Maybe I will get lucky enough to review one of those "Limited Edition Single Barrel" (SBLE) releases in the future. Although this undertaking might be too ambitious, not only because those limited releases are extremely hard to come by (at least here in Germany), but also because there will be no further annual SBLE releases in the future due to the "bourbon shortages" Four Roses has to deal with. However, there will be SBLEs for special commemorative bottling occasions. The annual "Small Batch Limited Edition" is not effected by this decision.
Facts
Nose
A light tang of coconut that evaporates very quickly. Then rather alcoholic, although surprisingly smooth for the relative high strength. Very discreet sweetness and spiciness. Overall very balanced.
Taste
The alcohol is noticeable but again surprisingly smooth. Followed by a lot of vanilla. Maybe some honey, too. Dried cherries and milk chocolate. Ends with some spiciness.
Finish
Medium. Once again, surprisingly smooth
Conclusion
On the one hand vibrant and intense, on the other hand surprisingly smooth, almost mellow. Very good bourbon, knows how to delight.
Score: 91 / 100