Bowmore 1998 'Cacao Geyser' (Wemyss Malts)
Peaty Friday Episode 7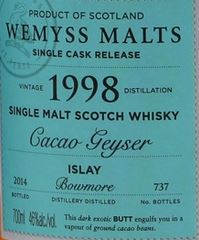 What better way to celebrate Labor Day than with two new episode of Peaty Friday, am I right?
So, for today, I planned something rather special for you: two expressions from Bowmore, both bottled by the independent bottler Wemyss Malts, but very different one to another: Bowmore 1998 'Cacao Geyser' and Bowmore 1995 'The Rockpool'.
I might be a bit late to the party with these reviews, as both bottlings are already sold out everywhere, but better late than never I guess.
Facts
Nose
At first big, very aromatic tobacco leaves. Light smoke. And undoubtedly, freshly picked dark cacao beans, dusted with earth. As time passes by, the aroma gets lighter and a bit more fruitier with a whiff of dark berries. The tobacco from the beginning turns into cold cigar ash. Very slight traces of Sherry in the background.
Taste
Starts with light smoke and moves on with a big fruitiness that wasn't to be expected from the nose. Blackberries, blackcurrants, elderberries. And of course a noticeable amount of very dark chocolate but the dark berries are really dominating here. Some light cigar smoke. Also a bit peppery now. Then the fruitiness returns, this time as crème de cassis.
Finish
Long. Dry smoke and Sherry. Then the black berries make a last foray.
Conclusion
Not the huge chocolate fountain as the name suggests, but therefore a tremendous fruitiness with piles of blackberries and delicate light smoke which makes it… I don't know… 'Smoked Cassis Geyser' maybe? Anyways, this Bowmore is just absolutely lovely and pleasantly different.
Score: 89 / 100