Bowmore 1995 'The Rockpool' (Wemyss Malts)
Peaty Friday Episode 8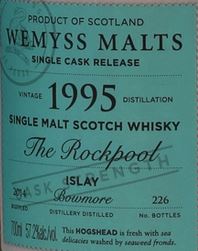 What better way to celebrate Labor Day than with two new episode of Peaty Friday, am I right?
So, for today, I planned something rather special for you: two expressions from Bowmore, both bottled by the independent bottler Wemyss Malts, but very different one to another: Bowmore 1998 'Cacao Geyser' and Bowmore 1995 'The Rockpool'.
The already reviewed 'Cacao Geyser' was a true cassis beauty and scored as a consequence 89 points. Thus, I am even more excited now for 'The Rockpool', since this one is not only three years older but also bottled at cask strength.
Facts
Nose
Light and lovely but lives up to its name: mineral and maritime with seaweed. Light smoke, which fits in perfectly. Then it gets a bit more floral with heather and even some lavender oil. A very, very light fruitiness in the background.
Taste
Heather honeyed peat smoke, very light in its appearance, and some ash. Balanced by sweet citrus fruits. The alcohol burns a bit but not in a bad way. A few rose peppercorns. Followed by salted seaweed with a slightly minerally touch. Also some fruits in between, could be oranges.
Finish
Long and sweet. Seaweed and red fruits.
Conclusion
Very high quality stuff! I love the huge amount of complexity, yet everything blends perfectly in. Again pleasantly different and extremely enjoyable.
Score: 91 / 100