Buffalo Trace (40%)
American Monday Episode 7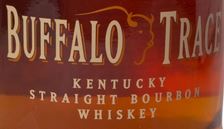 As already mentioned in my May Preview post, this month's episodes of 'American Monday' will feature four different expressions from the Buffalo Trace Distillery, the distillery with the most whiskey brands under one roof in the whole USA.
So let's start with their flagship bottling Buffalo Trace. The name is a reference to what the distillery claims was once an ancient buffalo crossing over the Kentucky River on whose banks the distillery is located. This bourbon was introduced in 1999 after the renaming of the distillery and was originally bottled at 45% ABV. However the bottling strength was reduced back in 2013 to only 40% ABV, something other distillers also did in order to keep up with the every increasing demand for bourbon.
The Buffalo Trace Bourbon is made from corn, rye and barley malt. It is aged for at least 8 years in the middle floors of Warehouse C, where its experiences the most temperature changes.
Facts
Nose
A very bright aroma of honeyed cereals, joined by cinnamon buns. With some time, mint takes a seat in the front row. Now also green apple peel and some vanilla toffee fudge. Hints of fresh oak in the background.
Taste
Smooth and honey-sweet but a bit thin. Spiced rum chocolate and a bit of apple toffee. Again oaky undertones.
Finish 
Not very long, almost too short. Rather sweet with a whiff of cinnamon and a minty ending.
Overall
A solid, well-crafted and easy to sip bourbon. Definitely on the sweet side of the things without any detectable rye influence. Leaves me wondering how the old 45% version was like.
Score: 82 / 100