Glenfiddich 18 Years Old
Tasty Tastings Episode 9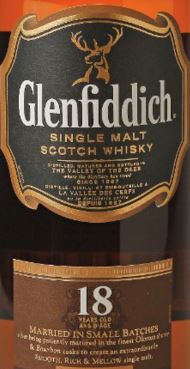 Today I want to compare the Glenfiddich 18 Year Old with the Glenfiddich 18 Year Old Small Batch Reserve. So let's start with the 18 Year Old.
Matured both in ex-bourbon and in ex-sherry casks, the casks got married together in small batches afterwards .
Facts
Nose
A very strong flavor of fresh, sweet apples. In the background more fruits. Some pears and a touch of bitter orange. A subtle honey sweetness. Maybe also some cinnamon. Hints of oak. However I am not able to find the sherry here.
Taste
Opens very mild and gets sweeter. Again lots of fruity apple paired with some mead. Suggestions of oak and malt. On the back of this a touch of nuts. Mild and balanced, but pretty watered-down overall.
Finish
long and mild with a gentle dryness
Overall
Soft and smooth, but maybe a little too soft overall. A higher strength would be very beneficial here. Still a nicely balanced, gentle single malt.
Score: 83 / 100