Aberfeldy 1999 'Snuffed Candle' (Wemyss Malts)
Tasty Tastings Episode 27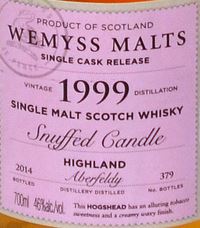 Today I will focus on Aberfeldy, a distillery of which you do not find too many expressions from, be it official or independent bottlings. Their actual core range only consists of two expressions, a 12 Years Old and a 21 Years Old, but there is a also a 18 Years Old for duty free. The reason for this is pretty simple: the majority of their production goes into Dewar's White Label blend, hence Aberfeldy is marketed as "the spiritual home of Dewar's whisky".
At one point or another I will review their official bottlings as well, but now I have two independent Aberfeldy's for you, both bottled by Wemyss Malts. The first one on my list for today is the Aberfeldy 1999 'Snuffed Candle', followed by the Aberfeldy 1999 'Toffee Tuile' later today.
Facts
Nose
Soft, very soft. A big basket full of dark cherries, decorated with a few tobacco leaves. And sure enough, there is a certain waxiness to it, which reminds me of a vanilla scented candle. Joined by toffee fudge, sugared dried apricots, orange liqueur and dried cinnamon sticks. And, with some good will, blown-out candle smell in the distant background.
Taste
Waxy and thick, but fruity. White pepper and sugar coated ginger. Followed by candied orange slices and white chocolate with caramel sauce.
Finish
Long with warm caramel sauce. Peppery and gingery. Hints of strawberries and cherries. Again blown-out candle smoke, not so subtle this time.
Overall
Not overly challenging, but the enjoyable waxiness is a real asset here. Simple but pleasant.
Score: 85 / 100