KAVALAN Single Malt Whisky
Worldwide Wednesday Episode 8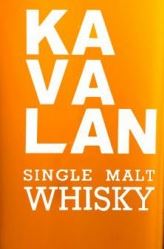 Taiwanese whisky distiller KAVALAN made a name for itself in a very short time, winning award after award. So I think it is only appropriate to take a closer look at this up-and-coming distillery from the Far East, and what better way to do so, than to start with their flagship bottling, the KAVALAN Single Malt Whisky.
This single malt was matured on a whole plethora of cask types. Not less than six (!) different cask types were used and I do not known any other entry level expression where this is the case. Like the rest of their non-single cask range, it is a NAS. Given the high Angel's Share the distillery is faced with, I guess it is not much older than 3 years.
Now, I am fully aware that maturing whisky in warehouses where temperatures can go up to 42° C is not quite the same as maturing whisky in the relatively cold Scottish climate, so I do not want to knock on them.
Facts
| | |
| --- | --- |
| Name: | KAVALAN Single Malt Whisky |
| Age: | NAS |
| Category: | Single Malt |
| Distillery: | KAVALAN |
| Cask Type: | fresh Bourbon, refill Bourbon, fresh Sherry, Spanish red wine casks, two different Portuguese White wine casks |
| Strength: | 40.0% Vol. |
| Colored: | Yes |
| Chill Filtered: | Yes |
Nose
Fragrant and light. A huge fruit basket consisting of melons (lots of), William pears, ripe bananas, oranges, papayas and coconuts. Honey sponge cake. And yes, there it is, a metallic youth but it is more than bearable.
Taste
Smooth and warming. Big, juicy mangoes and a hint of delicate spiciness. Goes over into banana puree with a sprinkle of cinnamon. Followed by vanilla pods paired with hints of stem ginger and toasted oak.
Finish
Long. Again banana puree with cinnamon. Traces of spicy oak and mint.
Overall
While this is not the most complex whisky ever, it is a rock-solid entry level expression with a lot of sweetness and exotic fruitiness. Neither the presumably very young age nor the relatively low strength are a handicap here, making this a good balanced and by all means enjoyable everyday dram.
Score: 84 / 100