KAVALAN Solist Sherry (S060703032)
Worldwide Wednesday Episode 16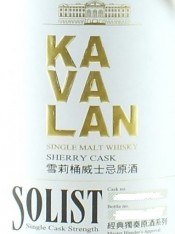 After reviewing all Kavalan expressions bottled at drinking strength, it is now time to review their single cask series called 'Solist'. I know that Kavalan really likes music basic names, but I do not have the slightest clue why they picked the German word for 'Soloist' here. Anyways, after last week's reviews of the Solist Ex-Bourbon and the Solist Vinho Barrique, I want to cover today the Solist Sherry and the Solist Fino.
With that being said, let's start with the KAVALAN Solist Sherry.
Facts
| | |
| --- | --- |
| Name:  | KAVALAN Solist Sherry |
| Category:  | Single Malt |
| Distillery: | Kavalan |
| Cask Type: | Ex-Oloroso Sherry Cask |
| Cask No.: | S060703032 |
| Number of bottles: | 548 |
| Strength: |  58.6% vol. |
| Colored: |  No |
| Chill Filtered: |  No |
Nose
Sweet and syrupy. At first lemon cake. Then strong notes of cinnamon, rum soaked raisins and sticky cherry liqueur. Hints of vanilla and dark berries jam in the back. Not that complex, but very elegant and pleasant.
Taste
Strong and warming. Again very sweet and sticky cherry liqueur. Accompanied by more rum raisins  and dark fruits. But also pretty peppery. The sherry notes get stronger and stronger with time.
Finish
Very long with dark chocolate and tobacco.
Overall
Good, but still a bit young.
Score: 86 / 100