Glenmorangie Tùsail
Tasty Tastings Episode 8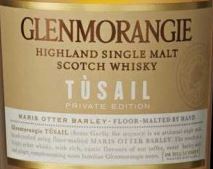 I got finally the time to ponder over the Glenmorangie Tùsail. I already reviewed two older Private Edition releases today: Ealanta and Companta.
Glenmorangie Tùsail is the sixth, and therefore latest, annual release in the Private Edition series from Glenmorangie. Tùsail is Gaelic for "origination" or "original". But wait, isn't there already a Glenmorangie named "The Original"? Yeah right, the 10 Year Old standard bottling is named "The Original". Well then, which of the two is now more original? So you see, maybe not the cleverest marketing strategy of all times. But all semi-serious kidding aside, let's see what Tùsail is really about.
The name makes reference to the used barley which is Maris Otter. Most people (myself included) probably never heard of this type of barley before but a few decades ago it was widely used to meet the need for a high quality brewing malt. However it fell out of style to make place for higher-yielding varieties. In this sense Tùsail is a "old-fashioned" whisky made from a nowadays rarely used barley which got floor-malted by hand. Ah, the good old times.
So for this release the focus is on the raw material and not on the cask type. But for me the Private Edition is all about special and well selected casks. Therefore I am a bit on the fence to be honest. But let's see if Tùsail can disperse my doubts.
Facts
| | |
| --- | --- |
| Name: | Glenmorangie Tùsail |
| Category: | Single Malt Scotch Whisky |
| Distillery: | Glenmorangie |
| Cask Type: | Ex-Bourbon Barrels |
| Strength: | 46.0% Vol. |
| Colored: | Yes |
| Chill Filtered: | No |
Nose
Dried apricots and peaches. Than vanilla infused honey comes around the corner. Developing aromas of malt, wholemeal flour and sour dough. Freshly chopped hazelnuts.
Taste
Full-bodied with a dry touch. Sweet malt, vanilla biscuits and toffee. A kick of spice – rose pepper, ginger and some bits of chili chocolate.
Finish
medium-length, a bit dry oak, a short intermezzo of cinnamon and ginger with a focus on the latter.
Overall
A truly beautiful and complex nose. Unfortunately this is pretty much the best part. The taste has definitely its merits but lacks the wow effects. The finish is just flat and a pretty huge let down. Kudos to Glenmorangie for trying something different but the result is not ground breaking for me.
Score: 81 / 100