Teerenpeli Distiller's Choice Kaski
Worldwide Wednesday Episode 2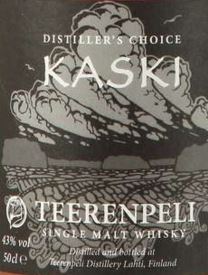 So after last Wednesdays review of the Teerenpeli 8 Year Old it is now time for another bottling from the biggest whisky distillery in Finland. In today's episode of Worldwide Wednesday: Teerenpeli Kaski Distiller's Choice. This 100% sherry matured bottling, the first of its kind from Teerenpeli, was introduced in 2012.
But what is the meaning of "Kaski"? I looked the word up in some dictionaries and it means "swidden / burn-beaten land". So the name seems somewhat misleading to me because Kaski does not offer anything like the distilleries from Islay. But maybe I am missing the point here as I do not speak a single word of  Finnish (and I am not even a native English speaker) ?
Which brings me directly to my next point. Last week I applauded Teerenpeli for their decision to put an age statement on their 8 Year Old instead of hiding its rather young age behind a fancy NAS Name. So I think this week it is only fair when I critique them a bit for not putting an age statement on this bottling. On a side note: After I did some research it seems that this whisky is about 6-7 years old. However this is not an official statement from the distillery so take this information with a grain of salt.
Please do not get me wrong: this is only minor critique. The whisky itself is a very good one.
Facts
| | |
| --- | --- |
| Name: | Teerenpeli Distiller's Choice Kaski |
| Bottled: | 2013 |
| Age: | NAS |
| Category: | Single Malt |
| Distillery: | Teerenpeli |
| Caskytpe: | Sherry Casks |
| Strength: | 43.0% Vol. |
| Colored: | No |
| Chillfiltered: | No |
Nose
A massive wall of sherry. And when I say massive I mean really massive. Lurking behind it are rum-soaked raisins, nut chocolate and dried red berries. Has a somewhat gluey sweetness to it but it is really hard to get beyond the big sherry. A slight hint of peat in the background.
Taste
Sherry Bomb! A sweetish gluey mouthfeel, almost like cream liqueur. A fruity touch. Tastes more like a sherry than a whisky to me.
Finish
More sweetish elements but vanishes way too quickly.
Overall
A very well-made sherry bomb. The sherry sweetness is a bit too loud and the finish is just too short but overall a surprisingly pleasant young whisky. Teerenpeli is definitely on the right track here.
Score: 88 / 100