Glenmorangie A Midwinter Night's Dram
Tasty Tastings Episode 90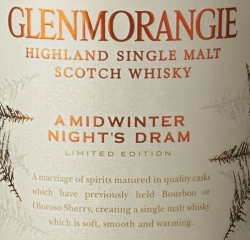 Truth be told, neither The Taghta nor the Dornoch impressed me THAT much, so let's see what the Glenmorangie A Midwinter Night's Dram has to offer.
So another — what else would you expect —  limited edition (UK only), this time inspired by Glenmorangie's tradition to treat The Sixteen Men of Tain with a special whisky for the holiday season. A Midwinter Night's Dram was first matured in ex-Bourbon casks and was then finished in ex-Oloroso Sherry casks. Sounds familiar to me…
Facts
Nose
Creamy with a soft sweetness. Sweet oranges, lots of them. Canned pears, bottled cherries and dried fruits. Reminds me of warm wassail. Walnuts and macadamia nuts. Toffee. More oaky and minty after a while. Yes, very wintry indeed.
Taste
Warm and spicy. Walnuts and burnt caramel, alongside hints of oranges, ginger and honey. Dark chocolate creme with citrus peels. Some peppery oak in the back.
Finish
Short and warming with a dry creaminess of sweet malt and green walnuts.
Overall
Doesn't disappoint, but doesn't add anything new either. Don't get me wrong, this is a very solid expression for sure, but in my opinion, they just repacked the old Lasanta and slapped a higher price tag on it. Why spend the extra bucks when I can get the "original" for a fraction of the price?
Score: good but not exceptional (84 / 100)