KAVALAN Ex-Bourbon Oak
Worldwide Wednesday Episode 12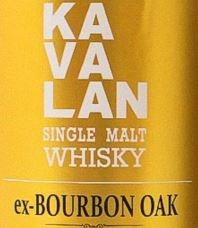 Kavalan released more recently two brand new expressions in order to bridge the gap between their core range – KAVALAN Single Malt, KAVALAN Concertmaster, KAVLAN Podium and King Car Conductor – and their single cask range called "Solist". Both new expressions, which go by the name of KAVALAN Ex-Bourbon Cask respectively KAVALAN Sherry Oak, are produced in bigger batches and between four and six years old when bottled.
And as coincidence has it, I will review both of them today, starting with the KAVALAN Ex-Bourbon Cask.
Facts
Nose
Pretty much what you would expect from a full maturation in ex-bourbon casks: mint, vanilla infused honey and coconut. Coupled with Kavalan's signature exotic fruitiness (thinking of bananas, pineapples and papayas here). Not overly challenging, but indeed a nice combination between both.
Taste
Full-bodied and creamy. The bourbon casks come through nicely again with vanilla, honey and caramel but all that  bourbon-y-ness is really good balanced by white pepper and hints of cloves, thus making the overall mouthfeel sweet but not too sweet. Some very delicate exotic fruit salad lingers in the background, giving the whole more depth.
Finish
Long. Very warming with some dry pepperness. A strong aftertaste of mango tea.
Overall
The first-fill bourbon casks and Kavalan's signature exotic fruitiness complement each other really well. The rather unique finish took me by surprise but in a good way. This is simply one gorgeous composition of a single malt.
Score: 92 / 100
Sample provided by King Car Germany GmbH