Teeling 21 Years Old Silver Bottling
Tasty Tastings Episode 26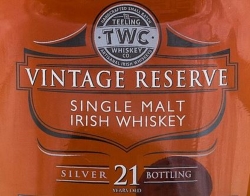 About four weeks ago, I reviewed the latest addition to the core range of Teeling, the Teeling Single Malt. And today I have yet another expression from this upcoming Irish distillery for you, this time from their Vintage Reserve range. This range consists of three editions, all from hand selected casks and strictly limited.
The first one was the 21 Years Old Silver Bottling, the first Irish whiskey ever to be finished in Sauternes casks, with the other two being the 26 Years Old Gold Bottling (finished for 12 months in French white Burgundy casks, limited to 1,000 bottles) and the 30 Years Old Platinum Bottling (limited to only 250 bottles).
Just keep in mind, Teeling is not distilling any whiskey yet. Thus all Teeling expressions are more like independent bottlings, released under their own brand. Most of the stock, both new make as well as aged spirit, comes from Cooley as this was part of the agreement when the family sold the distillery to Beam Global back in 2011. Yet, it is known that they are also purchasing selected casks from other distilleries.
Be that as it may, the Teeling's spend money and effort to build the first new distillery in Dublin after 125 years and their distillery is planned to open this year.
Facts
| | |
| --- | --- |
| Name: | Teeling 21 Years Old Silver Bottling |
| Bottled: | 28.03.2014 |
| Age: | 21 Years Old |
| Category: | Single Malt Irish Whiskey |
| Cask Type: | Bourbon Casks, Finish for 12 months in Sauternes Casks |
| Strength: | 46.0% Vol. |
| Cask Number: | Batch #3 |
| Bottle Number: | 1119 |
| Colored: | No |
| Chill Filtered: | No |
Nose
At first a lot of floral honey. Then a delicious fruit salad made from white grapes, peaches, golden kiwi, muskmelon, pink grapefruits and raspberries. Garnished with mint. All this fruitiness is handsomely balanced by peaty and earthy notes.
Taste
Brings in the soft sweetness of ripe fruits, most noticeable of grapes, peaches and pink grapefruits with maybe even some oranges. Joined by white pepper, cinnamon and fresh oak. Again very nicely balanced by earthy undertones.
Finish
Medium. Dry oak, also a bit peppery. Once again light peaty earth. Melon balls with fresh mint.
Overall
Lovely exotic fruits combined with peaty earth for some added complexity. Surprisingly deep and rich and just impressive all around.
Score: 91 / 100