BenRiach 10 Years Old
Tasty Tastings Episode 25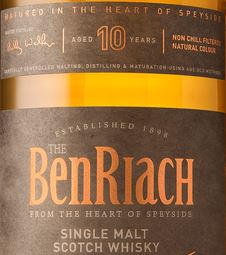 I was rather excited when BenRiach announced the introduction of the BenRiach 10 Years Old as the cornerstone of their range. Now, I wouldn't get too overly excited about a new 10 years old standard expression in general but this one is a pretty special one: according to their official statement, it is the first core range expression to be created predominantly from whiskies distilled at BenRiach since a consortium around Billy Walker took over the distillery back in 2004.
Not long ago, I already reviewed another 10 years old Benriach, namely the BenRiach 10th Anniversary Bottling. However, that one was solely matured in ex-bourbon barrels (and was bottled at 46.0% ABV), whereas this expression is matured in a combination of ex-bourbon and ex-Sherry casks.
Facts
Nose
A whole pile of custard in the front, combined with a soft, fresh fruitiness – pears, peaches and apricots. Stem ginger. Some gold kiwi fruits for an added citric touch. Hints of cherry blossoms and mint. All rounded off by barley sugar.
Taste
Warming yet light. A harmonious interplay between Granny Smiths and toasted oak. Then cacao powder, peaches and some anise. Hints of lemon zest.
Finish
Rather medium than long. Becomes increasingly drier with a touch of barley sugar.
Overall
Nicely uncomplicated.
Score: 84 / 100