Tomatin 2002 'Cuatro #4′ (Pedro Ximenez)
Tasty Tastings Episode 32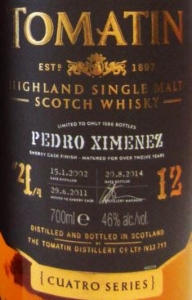 On to the last one for today! Let's wrap up the day with the fourth part of the 'Cuatro Series' from Tomatin.
You can find the other three here:
Facts
| | |
| --- | --- |
| Name: | Tomatin 2002 'Cuatro #4′ (Pedro Ximenez) |
| Distilled: | 15.01.2002 |
| Bottled: | 20.08.2014 |
| Age: | 12 Years Old |
| Category: | Single Malt Scotch Whisky |
| Distillery: | Tomatin |
| Cask Type: | 9 Years in Ex-Bourbon casks, Finish in Pedro Ximinez Sherry Casks for 3 years |
| Number of bottles: | 1,500 |
| Strength: | 46.0% |
| Colored: | No |
| Chill Filtered: | No |
Nose
Pretty sweet overall, although it burns a bit in the nose. Blood oranges, vanilla fudge and sweet syrup. Accompanied by dried red berries and dried flowers. Then some gunpowder comes to light.
Taste
Oily and sweet. Dark fruits followed by candied oranges. Its getting spicier now with white pepper, spicy licorice and ginger although the increasing spiciness is nicely balanced by chocolate coated berries.
Finish
Long. Sweet spiciness, rounded off by hints of bitter oak and dry sherry.
Overall
Pretty similar to the Oloroso Finish expression from this series, albeit with small differences. Again, solid but not earthshaking.
Score: 82 / 100
Epilogue
An interesting concept with potential, yet I am not sold on the execution which I find rather bland. Don't get me wrong, all four expressions are solid and enjoyable, but by the same token they are surprising similar to each other. I just expected more differences to be honest. Next time, in case there is a next time at all, I would like to see a longer finish period (maybe six years ?) or even a full maturation. However, hats off to Tomatin for trying something new.