Glenmorangie The Tayne
Tasty Tastings Episode 91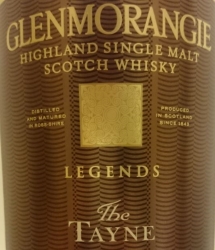 Ok, after The Taghta, Dornoch and A Midwinter Night's Dram it's now time for The Tayne.
Glenmorangie The Tayne (old spelling for Tain) is the latest addition to the Legends bottling series, a collection of single malts exclusive to Travel Retail. This expression was inspired by the legend of a Spanish Galleon which sunk in the Dornoch Firth (than known as the Firth of Tayne) after it got separated from the Spanish Armada during the England invasion in 1588. In connection with the theme, The Tayne was finished in ex-Amontillado casks.
As reported by the Whisky Gospel, The Tayne and The Duthac will become permanent additions at Travel Retail, replacing the trio of Nectar D'Or, Lasanta and Quinta Ruban. But no worries, all three expressions will be still available in normal shops.
Facts
Nose
Very, very light. Roasted nuts, maybe not the roasted chestnuts from the official tasting notes, but definitely some macadamia nuts and cashews, and maybe some walnuts as well. Espresso sweetened with brown sugar, honeyed raisins and chocolate-covered coffee beans. Sweet red grapes and figs. Candy floss. Floral hints in the back.
Taste
Oily, warming and spicy. Citrus peels, mangoes and papayas. Burnt popcorn with caramel sauce. Hints of walnuts and coffee.
Finish
Medium to long and slightly spicy. Dried fruits, milk chocolate, bitter citrus fruits and coffee.
Overall
A bit different, but definitely tasty and very enjoyable. That said, I think this expression would benefit from a higher strength (let's say 46% ABV).
Score: good but not exceptional (84 / 100)
Sample provided by spiritscorner.eu