KAVALAN Solist Fino (S060814050)
Worldwide Wednesday Episode 17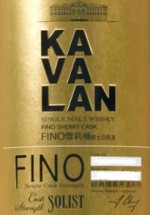 After reviewing all Kavalan expressions bottled at drinking strength, it is now time to review their single cask series called 'Solist'. I know that Kavalan really likes music basic names, but I do not have the slightest clue why they picked the German word for 'Soloist' here. Anyways, after last week's reviews of the Solist Ex-Bourbon and the Solist Vinho Barrique, I want to cover today the Solist Sherry and the Solist Fino.
So without further ado, here comes the crown jewel of the Kavalan range.
Facts
| | |
| --- | --- |
| Name:  | KAVALAN Solist Fino |
| Category:  | Single Malt |
| Distillery: | Kavalan |
| Cask Type: | Ex-Fino Sherry Cask |
| Cask No.: | S060814050 |
| Number of bottles: | 554 |
| Strength: |  58.1% vol. |
| Colored: |  No |
| Chill Filtered: |  No |
Nose
A very interesting aroma. Cherry bubblegum, fresh cinnamon sticks and citrus fruits. Then big notes of dried apricots. Wood polish. Hints of cigarette tobacco.
Taste
Full-bodied and oily. Dried cherries and dried plums mixed with oriental spices. Pretty bitter around the edges. The alcohol burn gets noticeable stronger with time.
Finish
Very long. Strong but also sweet. Very warming. Licorice liqueur and tea leaves.
Overall
A big, simple sherried whisky. Well-made, but not spectacular.
Score: 87 / 100
Sample provided by King Car Germany GmbH