Laphroaig 2001 Old Particular Feis Ile Bottling 2015 (Douglas Laing)
Peaty Friday Episode 16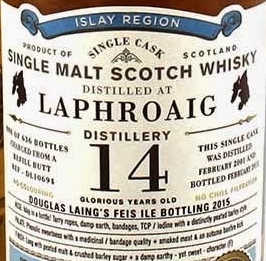 I meant to review this bottling already three weeks ago during the Feis Ile festival. But the mailing service here is everything but reliable at the moment so the bottle did not arrived in time. And with the release of both Ardbeg Perpetuum and Benriach Dunder I had to postpone this review until today.
Anyways, what we have here is Douglas Laing's first ever Feis Ile Bottling, a 14 Years Old Laphroaig from a refill butt. As always, this Old Particular bottling is a single cask release (with a yield of 636 bottles this time) and is neither colored nor chill filtered. On top of that, it is bottled at 48.4% ABV and to me, this is pretty much the minimum strength required for a Laphroaig.
As some of you might know, I am not exactly the biggest fan of the new official Laphroaig 15 Years Old, so let's see what this independent bottled Laphroaig with roughly the same age has to offer.
Facts
| | |
| --- | --- |
| Name: | Laphroaig 2001 Old Particular Feis Ile Bottling 2015 (Douglas Laing) |
| Bottler: | Douglas Laing |
| Bottling Series: | Old Particular |
| Distilled: | February 2001 |
| Bottled: | February 2015 |
| Category: | Single Malt Scotch Whisky |
| Distillery: | Laphroaig |
| Cask Type: | Refill Butt |
| Strength: | 48.4% vol. |
| Cask No.: | DL10694 |
| No. of Bottles: | 636 |
| Colored: | No |
| Chill Filtered: | No |
Nose
Laphroaig-tastic! Everything you would expect: medicine, iodine and bandages. Smoldering ashes. Backed up by a very fine sherry sweetness. After a few minutes a light fruitiness comes to light. A bit sour around the edges now.
Taste
Sweet and phenolic at the same time. White peaches. Then the peat gets stronger and sharper. Ash. Lemons.
Finish
Long and sweet with a gentle peat smoke. Again phenolic. Lemon salt.
Overall
A truly excellent cask. All the features of a classic Laphroaig combined with a rich sweetness for the extra "oomph". Absolutely brilliant and outstanding bottling.
Score: 96 / 100