Glenmorangie Milsean
Tasty Tastings Episode 92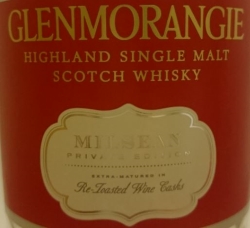 Alright, after reviewing The Taghta, Dornoch, A Midwinter Night's Dram and The Tayne, let's warp up the day with the Glenmorangie Milsean! 
Milsean is the seventh, and therefore latest, annual release in the Private Edition series from Glenmorangie. Milsean is Scots Gaelic for "sweet things" and gives you already a pretty good idea what this expression is all about. But before we delve more into this, let me say how happy I am to see that Glenmorangie is taking the Private Edition series back to its roots because for me, this series is all about special and well selected casks. So yeah, I am really excited for that expression, especially after the pretty disappointing Tùsail from last year.
Anyways, Milesan was finished in re-toasted wine casks after a first maturation in ex-Bourbon barrels. Now, I find wine finishes always a bit tricky, because there is not much middling ground. They are either hit or miss, at least in my opinion. That said, Glenmorangie released with the Companta a truly superb wine finished expression a few years ago, so I have some high hopes when it comes to the Milsean.
As for the packaging, I don't really mind it as much as some others do. To be honest, I somewhat like this retro candy shop look and I think it just fits the "sweet things" theme.
Facts
| | |
| --- | --- |
| Name: | Glenmorange Milsean |
| Age: | NAS |
| Category: | Single Malt Scotch Whisky |
| Distillery: | Glenmorangie |
| Cask Type: | Ex-Bourbon, Re-Toasted Wine Casks Finish |
| Number of Bottles: | 30,000 |
| Strength: | 46.0% Vol. |
| Colored: | No |
| Chill Filtered: | No |
Nose
Definitely lives up to its name. Just imagine a big cup filled with coconut, citrus and mint ice cream. With raspberry sauce. And roasted almonds. And gummy bears. And vanilla marshmallows. And some cocktail cherries on top. And while I find all this sweetness rather pleasant, it feels also a bit artificial at times.
Taste
Fruity and very sweet as expected, but there is also an interesting spicy touch. Vanilla and coconut as well as William Pears, balanced by oak, but without the bitterness. Overripe mangoes alongside hints of plums, oranges and honey.
Finish
Medium to long. Sweet and slightly bitter with warming spices. Candied ginger together with some fruits, hard to tell which ones though. Altogether a little bit flat.
Overall
Not very complex, but almost dangerously tasty. Does the Milsean bring the Privat Edition back to its former glory? No, it doesn't, at least in my opinion. But at least the series is back on the right track, so let's see what next year brings!
Score: good but not exceptional (86 / 100)
Sample provided by spiritscorner.eu